Saturday, June 1, 2019
5:30 - 8:45 pm
Parish Hall
This event has already occurred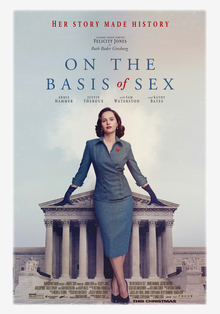 "On the Basis of Sex"
Saturday, June 1, 5:30 p.m. - 8:45 p.m. in the Parish Hall

We will begin with dinner, offering Mellow Mushroom pizza, salad, fruit, cookies and popcorn.
Then we'll watch "On the Basis of Sex," based on the true story of Ruth Bader Ginsburg. The film begins when Ruth Bader is an undergraduate student at Cornell University and follows her through her years as one of only nine women in her class at Harvard Law School, her marriage to fellow Harvard Law School student Martin Ginsburg and her early years of teaching law at Rutgers University. In the early 1970's, Ruth finds her voice as an attorney when she teams with her spouse Marty to bring a groundbreaking case focusing on sex-discrimination before the U.S. Court of Appeals. The movie is inspiring and enlightening and the relationship between Ruth and Marty is deeply respectful and a joy to witness. The film was written by Justice Ginsburg's nephew Daniel Stiepleman and was timed to be released in 2018 on the 25th anniversary of her appointment to the Supreme Court.

It's rated PG-13 and lasts about 2 hours. Following the movie we'll have a brief conversation about where we saw and heard God and Love in the movie.

The suggested contribution for the meal is $10.00 or whatever amount you are able to pay.
All are welcome!