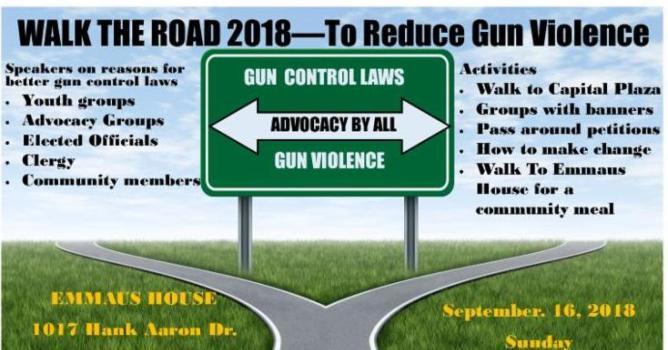 Each year the congregants, volunteers and staff of Emmaus House hosts "Walk The Road". We are a part of the Peoplestown Neighborhood in Southeast Atlanta, and each year we want to join and promote others' efforts in Atlanta about issues that concern everyone. Peoplestown has participated in the advocacy of an improved quality of life for all residents of Atlanta.

On Sunday, September 16, 3:00 - 6:00pm, "Walk The Road - To Reduce Gun Violence" will explore questions and perspectives on gun safety and legislation efforts after walking from Emmaus House to the Georgia State Capitol (1.5 miles).

We are again walking to the Capitol, following the footsteps of our heroes. From our early days during the civil rights movement to the uncertainty of today of too much gun violence, we have loved and learned, prayed and mobilized, and laughed and cried with the incredibly resilient people of Peoplestown, Atlanta and Georgia. We have helped change policy and laws in Georgia by taking a walk, like this, to the Capitol and our lawmakers.

We invite individuals, groups and organizations to bring information, banners and signs to carry and display your efforts and how others can help. If you have petitions to sign or handouts to give, bring those too.

The afternoon will conclude with a community meal back at Emmaus House. The Episcopal Church of the Annunciation and the Emmaus House Chapel will prepare and serve the meal.