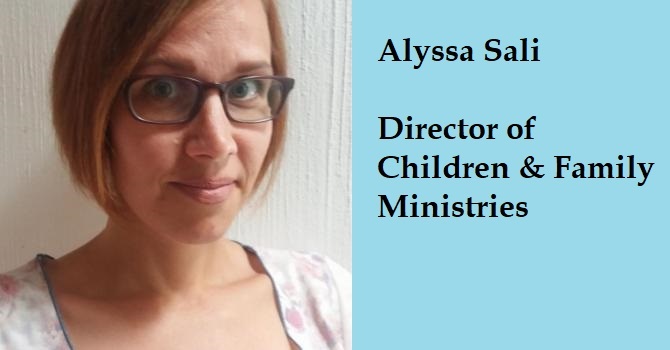 Alyssa Sali joins us this week as our new Director of Children and Family Ministries. This is a new position that is being funded in its first years through a gift from the St. Bede's Endowment Fund (Thank you Endowment Committee!). Alyssa will be working with all of you who already minister with such commitment and compassion to the care and nurture of the children and families of the parish. In this new position, Alyssa will be the point-person for all ministries and activities involving children and their families. The purpose of adding a staff position in this area is intended to support all of the active teachers and leaders who already give so generously of themselves to support our excellent ministry with children. This position is also intended to mirror for the younger children the staffing support that we have given to youth ministry through Beth Cannon and her predecessors for many years.

Many of you have gotten a chance to know the Sali family (Judah, Alyssa, Lane, and Ashley) since they joined St. Bede's a year ago, but you may not know about Alyssa's background and why we feel that her gifts and talents are so suited for this new position. Alyssa holds bachelors and master's degrees from Wheaton College in Christian theology and is fluent in English and Spanish. She has spent the last decade living in Mexico with her family where she led formation, pastoral care, and music programs for families, children, and youth - including co-founding with Judah an intentional faith community for people who found themselves marginalized from existing church structures in their town. Alyssa also has experience in teaching ESL and homeschooling.

Alyssa (modestly) describes some of her strengths as: the ability to be a catalyst for growth in people and organizations; being a versatile adapter in complex situations; and the ability to advocate for integration of academic excellence and emotional/social intelligence in multicultural contexts. We have already observed these gifts and more as Alyssa has offered of herself over the past year at St. Bede's.

The Vestry very much wanted the person we called to this new position to be someone who can help us build bridges between families of the whole parish - across different languages and cultures. We believe that in Alyssa we have found those gifts and more. Welcome Alyssa!